Oxford arson child deaths 1997: Fiaz Munshi appeal denied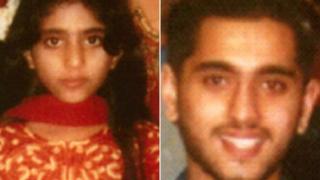 A woman jailed for 13 years for her part in an arson attack in 1997 which killed two children has had an appeal to reduce her sentence refused.
Fiaz Munshi, 38, of Oldham, travelled with seven others to Amjad Khan's house in Oxford after he broke up with her.
Petrol was squirted in the letterbox and his siblings Majid, 15, and Anum, eight, died in the blaze. Munshi was found guilty of manslaughter.
Judges at London's Criminal Appeal Court said she had not shown remorse.
Munshi, of Manley Road, had been in a secret relationship with Amjad but his family disapproved after he was convicted of a drugs offence.
It later emerged that she conspired with others to set fire to the house in Magdalen Road.
In 1998, five men were convicted of the killings. A year later Munshi's sister, Riaz, was convicted of manslaughter.
Munshi was arrested in September 1997 but initially released without charge and flew to Pakistan. The mother-of-four later returned to the UK in 2004.
On sentencing Munshi at Oxford Crown Court in 2014, Judge Justice Robin Spencer said: "You've had years of freedom and family life you did not deserve - your day of reckoning has arrived."
At the appeal hearing Lord Justice Pitchford said: "The judge specifically took account of the fact that, since her crime, she had made a new life for herself, and that there would be an impact on her children and her own family life because of the length of sentence.
"She had not shown any degree of real remorse... there was no room for exceptionally lenient treatment.
"Public condemnation had to take first place and the public interest had to prevail.
"The sentencing judge said he was quite sure her simmering resentment and anger towards the family was her motivation for involvement in the fire that night".