Bicester Hugo Boss shop death: Safety checks 'were done'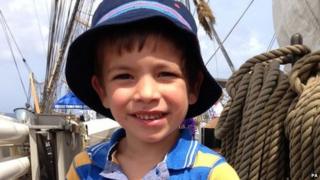 The manager of a Hugo Boss shop where a large mirror fell on to a four-year old boy has told an inquest he carried out regular safety checks.
Austen Harrison suffered fatal head injuries at the shop in Bicester, Oxfordshire, in June 2013.
Manager Andrew Morgan told jurors at Oxford Coroner's Court he checked fixtures daily but refused to say if he documented inspections.
Jurors heard the free-standing mirror should have been wall-mounted.
Mr Morgan told the court the mirror had been installed by a team of professional shop-fitters rather than staff.
"We were working on the basis that the mirror was attached to the wall, that it was done on a professional basis and that there was no reason to doubt it," he said.
He said there had been no reports of any concerns from customers.
When asked if he had documented the monthly health and safety inspections he was required to carry out, Mr Morgan replied: "No comment."
Austen, from Turners Hill in Crawley, West Sussex, was with his parents, Simon and Irina Harrison, on 4 June 2013.
He suffered "devastating" head injuries after the free-standing mirror fell on top of him as he played with it while his father was trying on suits.
He had emergency surgery to relieve pressure on his brain, but his life-support was turned off four days later.
The inquest continues.