Oxford park-and-ride changes 'would make green belt car park'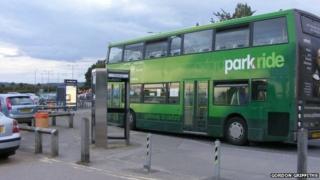 Plans to re-locate Oxford's park-and-ride schemes will turn green belt land "into a car park", say campaigners.
Oxfordshire County Council's transport strategy proposes moving them away from the city to reduce congestion.
The Campaign to Protect Rural England (CPRE) said the sites around Langford Lane, east Kidlington, Cumnor, Lodge Hill, Sandford, and Eynsham would "encroach upon the countryside".
But, the council said its green belt areas had to be reviewed.
Its existing park-and-ride stations at Botley, Peartree, Water Eaton, Seacourt and Redbridge are situated close to the ring roads.
David Nimmo Smith, cabinet member for transport, said: "It is possible [that the park-and-rides could be built on the green belt] because the sites we've identified in broad terms, some are there.
"It's part of an overall strategy designed to get people to travel by more sustainable modes of transport. If you capture them further out it means there's going to be fewer cars coming into the city, and that's got to be a good thing."
But Helen Marshall, director of CPRE Oxfordshire, said the "massive" sites would "undermine the openness and permanence of the green belt, encroach upon the countryside," and "turn Oxford's green belt into a car park".
"This is not a small little local car park... but a series of large developments that would also lead to more traffic," she said.
"It'll move the congestion out to more rural areas and it's just going to shift the problem and not solve it."