Oxford hospital rapist Andrew Hutchinson may have more victims, police say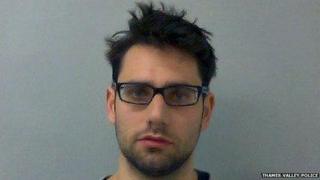 There could be more victims of a former nurse who raped and sexually assaulted female patients including some who were unconscious, police have said.
The unconscious victims of Andrew Hutchinson were unaware they had been attacked at John Radcliffe Hospital in Oxford until officers contacted them.
The 29-year-old admitted a number of offences including rape on Monday.
Police said victims were identified from footage obtained, but that anyone else with concerns should get in touch.
'Shocking ordeal'
Hutchinson, from Abingdon, committed the offences at the hospital and at the Wilderness Festival in Oxfordshire between 2011 and 2013.
Det Ch Insp Mark Johns said: "None of the victims realised they'd been victims of such serious sexual assaults.
"Clearly it's a very shocking ordeal to be told they're victims.
"We've identified all the victims we can from the footage we've obtained."
"But I would stress if anyone does have any concerns they can contact Thames Valley Police [on 101] and quote Operation Bream," he said.
The former senior nurse also used a camera to spy on women and children at the White Horse Leisure Centre in Abingdon.
Hutchinson was dismissed from the hospital after an internal investigation.
He has been remanded for sentencing on 27 April at Oxford Crown Court.