Bicester Village fire at Carluccio's restaurant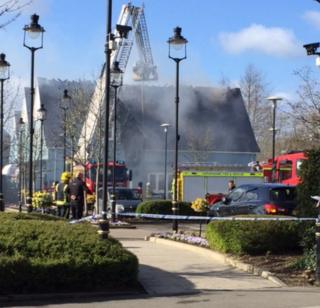 A large fire broke out in a restaurant at a major shopping outlet in Oxfordshire.
Bicester Village was shut after the fire started at about 08:45 BST.
As the fire took hold, one eyewitness told the BBC: "Carluccio's restaurant is on fire, flames are coming out of the roof. It's chaos, with people running in all directions."
The fire service said 35 firefighters had been tackling the blaze but it had now been brought under control.
The shopping centre reopened in the afternoon but crews were expected to remain at the scene overnight.
Oxfordshire Fire and Rescue said: "An aerial platform ladder was used to tackle the fire, which had spread to the roof of the building.
"Firefighters are currently damping down at the scene and monitoring adjacent buildings.
"The cause of the fire is yet to be determined."
Fire service spokesman Graham Mitchell said it was possible the fire did not start inside the restaurant.
"We believe the fire may have started externally but it is too early to confirm that," he said.
Crews were likely to remain on the scene for another eight to 10 hours, he added.
"We've extinguished the majority of the fire but we're just going through a period of hot-spotting and dampening down the embers so we can be confident that the fire's fully extinguished."
Businesses reopened at 13:00 GMT, with the exception of some boutiques.
A Bicester Village spokesman said: "Happily everyone on site is safe."
The roof of the restaurant was destroyed in the blaze, with tiles falling on to the path below as onlookers watched.
'Evacuation'
Shopper Colin Humphries arrived early at the outlet and saw the fire taking hold.
"We had a coffee, walked back through and the fire was coming out of the eaves in the corner," he said.
"It was burning quite quickly and quite ferociously.
"Bicester Village were on the case. They were evacuating people and they set up a cordon."
A spokesman for Carluccio's said: "The emergency services were on site within minutes and the fire was contained to our restaurant.
"All guests and staff were evacuated safely and we would like to thank both the police and fire services for their swift response and efficient handling of the incident."
Thames Valley Police said it was on the scene "supporting the fire service and trying to minimise impact to the local community".
Kris Reeder, another eyewitness, spoke to the BBC at the height of the blaze.
"The fire brigade are putting a lot of water onto the fire, but it seems like there's a lot more smoke," he said.
"I can see a lot of smoke coming out of the roof of the building of Carluccio's and I can see some flames on the left hand corner of the building."