Five Bicester Village stores remain shut after Carluccio's fire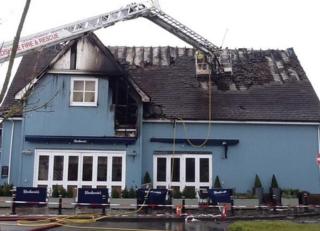 Five stores remain shut at Bicester Village after a fire ripped through a restaurant at the shopping outlet.
At its height, about 35 firefighters tackled the blaze at Carluccio's restaurant on Wednesday.
Most stores at the centre reopened later the same day but Kurt Geiger, Dior Homme, Loewe, Coccinelle and Carluccio's are still closed.
A retail expert believes the fire would have cost retailers hundreds of thousands of pounds.
Keith Slater, who has worked at director level in several UK retailers, said: "Bicester Village is one of the most efficient users of retail space in the world in terms of the money it generates per square metre.
"[The amount lost] will be a rather large amount. It will have hit the estate of Bicester Village."
He estimated the turnover for the shopping venue was about £1.5m on a normal day, with retailers paying the centre a percentage of their turnover.
An investigation into the cause of the fire is under way but it is believed the blaze started outside the restaurant.
Fire crews remained on scene overnight to damp down.
A Bicester Village spokesman said no-one was injured during the blaze.