Live WW2 bomb found in Wheatley garden shed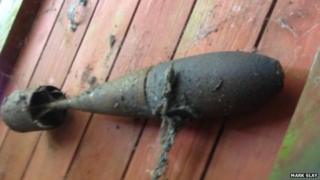 A World War Two mortar kept in a garden shed for more than a decade has been detonated after it was found to be "live and potentially dangerous".
The shell had been chained up in a back garden in Elm Close, Wheatley, Oxfordshire, with its owners believing it to be deactivated.
But after they checked with police ahead of demolishing the shed, it was found to be live.
Army bomb disposal experts detonated the device at a nearby farm.
It is thought the mortar had been left in the shed by the previous owner.
Thames Valley Police described it as a "historic live munition" and told residents in a tweet there was "no need to worry".
People living nearby said they felt their homes shake when the controlled blast, carried out by the Royal Logistics Corps, happened on Thursday evening.