Ardley Landfill site closes after 35 years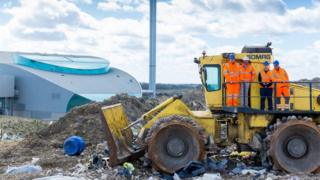 A major landfill site in Oxfordshire is to close after 35 years.
Ardley Landfill near Bicester is a familiar sight to residents across the county, taking more than six million tonnes of waste since it opened in 1980.
Henry Austin, manager for operator Viridor, said it had been an "important part" of the region's infrastructure.
Non-recyclable waste will now be used to generate electricity at the new £205m Energy Recovery Facility nearby.
There the waste will be transformed into 26MW of electricity, powering about 38,000 homes.
Mr Austin added: "It's time to recognise that we should be looking at our non-recyclable waste as a resource that can be put to use.
"The closure of the landfill is an important milestone in the ongoing efforts to drive value from our waste hierarchy.
"Using residual waste to generate electricity is ensuring we're maximising every available opportunity."
Mark Kemp, at Oxfordshire County Council, said the commitment to close the site would help "reduce the harmful environmental effects of landfill and use waste to generate valuable electricity".
The landfill was the site of a significant dinosaur discovery in 1997 after a school teacher uncovered footprints belonging to the Megalosaurus and Cetiosaur.