Chalgrove St Mary's Church medieval paintings restored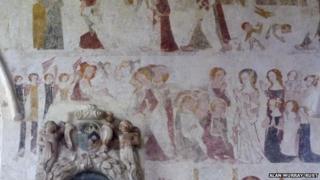 A £1m project to restore and preserve a unique set of medieval wall paintings is expected to begin this summer after receiving £500,000 in lottery funding.
The art, which covers three walls of the 12th Century St Mary's Church in Chalgrove, Oxfordshire, is believed to have been created in about 1320.
Work is expected to begin on 2 June and be complete by Easter 2016.
Vicar the Reverend Ian Cohen said the church would be "in exile" while the work was carried out.
He said: "I'd like to think we are going to be back in by next Easter so we shall have an interesting Christmas.
"Basically, we are going to be a church which is going to be in exile for a while and visiting various other places and doing other things."
The project to restore the paintings has been awarded £544,000 from the Heritage Lottery Fund. The church is one of nine in the county to receive a share of £900,000 for repairs.
The images, which depict the life, death and resurrection of Jesus, the death and assumption of Mary and the day of judgement, are believed to have been paid for by local nobles.
They were lime washed at the time of the Reformation but rediscovered during renovations in 1858.
Mr Cohen said: "They are very much in code with designs from all across Europe so that, where we've lost bits and pieces of wall paintings in the past, we can reconstruct what would have been there or the sort of thing that would have been there."