Campaign group's traffic fears over Bicester garden city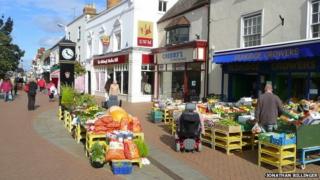 A campaign group claims no traffic infrastructure plans have been put in place ahead of a project to build 13,000 homes.
They are due to be built in Bicester over the next 20 to 30 years, under the government's garden city plans.
Bicester Traffic Action Group wants a new bridge to be built over a rail line in the town as part of its campaign.
The county council and Cherwell District Council said transport needs had been considered.
The district council said it hoped the announcement that Bicester would be the government's second new garden city, would allow it to bid for funds to deliver some infrastructure earlier.
About 6,000 of the new homes planned are part of the NW Bicester "eco-homes" development, where construction began last April.
Bicester Traffic Action Group is also concerned about traffic caused by Bicester Village shopping outlet and the London Road level crossing, once services on the new East West Rail line increase.
Richard Mallows, co-chair of the group, said campaigners wanted a new bridge to be built to join the "two halves of Bicester which will be divided by the rail line".
Bicester Village had to temporarily close after roads around the town became gridlocked by "Black Friday" shoppers last November.
In a bid to reduce congestion over Christmas the outlet drafted in traffic marshals and electronic signs.
Mr Mallows said: "Without the correct transport infrastructure in place it could lead to a huge amount of congestion in the town."
The county council said it was working with developers and key stakeholders to ensure the right infrastructure was put in place.
"As with any large-scale development, there are many parties involved and it requires detailed planning and cooperation, which means that timescales are always difficult to precisely determine," it said.
The authority added it welcomed input from interested parties and would "consult fully" with residents, businesses and stakeholders as plans develop.
An East West Rail Consortium spokesperson said it was considering the impact future rail services would have on the London Road crossing and traffic.
"Replacing the crossing with a bridge is one option to be considered, but no decisions have been taken yet."