Raymond Blanc backs Oxfordshire hospital kitchen campaign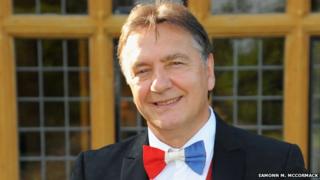 Celebrity chef Raymond Blanc is backing a campaign to halt the closure of kitchens at Oxfordshire community hospitals.
He is one of 17 signatories of an open letter to Oxford NHS Health Trust, outlining why they are against ready meals replacing freshly cooked food.
Oxford Health Trust said 90% of its patients already eating the ready meals thought the food was "good".
Mr Blanc's media team declined to provide a quote.
The letter is a reaction to the trust's plans to introduce ready meals in June to community hospitals in Wantage, Didcot, Wallingford, Chipping Norton and Witney.
Points raised include the greater popularity of freshly cooked food in hospitals, the idea "it might cost more to buy food from private contractors" and the fear "cases of listeriosis [a bacterial infection] are commonly found in chilled 'ready-to-eat' food".
A petition against the kitchen closures has so far attracted 424 signatures.
A spokeswoman for the trust said pre-packed meals were already served "at all of our mental health hospitals and around half of our community hospitals" and a survey in March showed 90% of patients rated the food "good" and 10% "acceptable".
She said: "Adopting the same system across the trust guarantees consistency of quality, nutritional value and portion size."
She added the changes were expected to save a third on like-for-like provision and the savings could be "redirected into clinical services".