Liberty Baker: Road safety measures after girl's death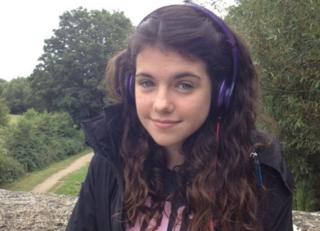 Safety measures are being introduced on a Witney road where a teenager was killed when a car mounted the pavement.
Liberty Baker, 14, died after being struck by Robert Blackwell's car on Curbridge Road in June. He was jailed for causing death by dangerous driving.
Oxfordshire County Council is installing advisory 20mph signs after concerns were raised by residents.
Liberty's father Paul Baker said: "Children have every right to safe, independent travel."
Other measures include the upgrade of school warning lights and changing parking layouts.
County councillor Laura Price described the measures as "quite small low level changes but things that can potentially have quite a high impact".
"It's making people aware of their surroundings when they are driving down that road," she said.
'Feel safe'
Mr Baker called for more 20mph speed limits to be introduced.
"It should be set, not just on roads outside schools, but main roads through Witney.
"It's something that needs to be looked at - children need to feel safe if they are walking or cycling," he added.
Two of Liberty's friends, also 14, and a man, were also hit by Blackwell's car and needed hospital treatment.
Blackwell, 19, of Hayway Lane, Bampton, admitted causing death by dangerous driving and was jailed for four years
Prosecutors said Blackwell was travelling at "a minimum of 44mph" in a 30mph zone when his Citroen C2 mounted the pavement.