Abingdon river death: Natasha Elderfield convicted of manslaughter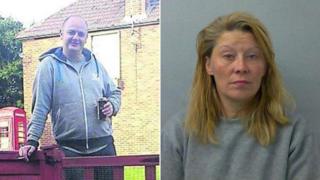 A woman who killed her boyfriend during a row on a canal boat has been convicted of manslaughter.
Natasha Elderfield, 41, stabbed Robert Dobinson, 33, from Faringdon, on the boat in Abingdon in October.
She had been drinking when she used a five inch kitchen knife to stab him in the chest and one of the palms of his hands after a row about her affair with another man, Oxford Crown Court heard.
He was taken to the John Radcliffe Hospital but died from his injuries.
Mr Dobinson, whose nickname was Raggy, was found at a mooring area near Bridge Street in Abingdon.
Elderfield, of no fixed address, was filmed by a body worn police camera as she was arrested.
She is heard saying: "Apparently I stabbed him… I had a knife in my hand. I was cooking."
'Ups and downs'
The jury delivered a unanimous verdict after three days of deliberations following a two week trial.
Elderfield showed no emotion as the verdict was read out. She will be sentenced in May and was told she will spend time in prison.
A statement from Mr Dobinson's family said it had been "ripped apart".
It added: "We had our ups and downs as every family does, but we loved our brother Raggy to bits.
"It has broken our hearts to know that there is somebody out there who can do something like this. Natasha used to live with us and she has done something that can never be forgiven.
"The world and Faringdon will never be the same without Raggy."