Second murder arrest in Oxford after man found injured in car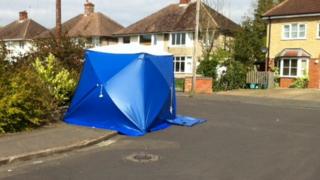 A second man has been arrested on suspicion of murder after a man found injured in a car in Oxford died.
Police are questioning the man in his 30s, from Oxford, following the discovery of a man in a red Mazda on Tuesday evening.
The unidentified victim was found with chest injuries in North Way around 10:45 BST. He later died in hospital.
A 31-year-old man, from Oxford, also arrested on suspicion of murder continues to be questioned.
Detectives earlier completed their examinations at the scene and were also searching a house and a street junction in the Cowley area.
The junction of North Way and Burchester Avenue in Barton had been closed since late on Tuesday.
Earlier, officers also began searching a property in Mayfair Road, Cowley and an area in Hillsborough Road.