Oxford holds Nepal vigil as aid shipped out by Oxfam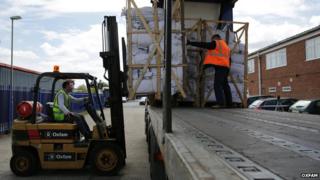 Ten tonnes of humanitarian aid is being shipped out to Nepal from a charity's Oxfordshire warehouse.
Oxfam's £80,000 shipment from Bicester comes on the same day a vigil was held by Oxford's Nepalese community in the city centre.
The Prayer For Nepal event took place in Bonn Square, Oxford earlier.
The Oxfam shipment includes shelters, water tanks, tap stands and sanitation equipment, following the earthquake in Nepal that has affected 8m people.