Barton Park: Work begins on housing development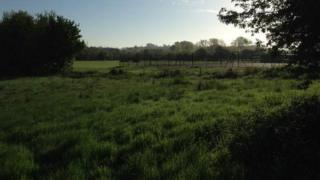 Work is beginning on a major £47.9m housing development in Oxford.
Barton Park will provide up to 885 new homes, including 354 affordable homes, as well as a food store, primary school and a nature park.
It is being built by Barton Oxford, a venture between Oxford City Council and Grosvenor Developments, and will be located off the A40 Northern bypass.
Council leader Bob Price said there would be a "strong emphasis on selling to local people and first time buyers".
He added: "The whole scheme is being developed with a very strong eye to the environmental aspects.
"Along Bayswater Brook we're going to have a new linear park that will provide a lot of ecological interest.
"Towards the middle of the site there's going to be a new nature park which will be carefully designed to maintain some of the area's rural quality."
The first homes are expected to be transferred to the council in late 2016.