Oxfordshire County Council plans £6.3m transport savings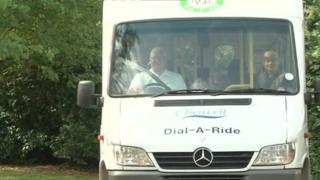 Subsidised transport for elderly and vulnerable people faces a significant cut as a council looks to save £6.3m.
Oxfordshire County Council will no longer fund Dial-a-Ride from April 2016 and will look to the voluntary sector to take up the service.
Opposition councillors say reliability will be uncertain in the future.
Subsidies paid to commercial bus companies will also be reduced, a move leader Ian Hudspeth says will make the council "more cost-efficient".
The council's cabinet is set to be presented with initial proposals on 26 May with a consultation scheduled to take place from June until August,
In 2010, the council identified plans to save £290m by 2018 and in February passed a budget to save £20m towards that total.
Responding to stopping Dial-a-Ride funding, Conservative Mr Hudspeth explained a full analysis had been conducted.
"There's 220 people across Oxfordshire who use it - 198 of them are able to walk and are within 400m of a bus stop," he said.
"They also have a concessionary bus pass so actually they're able to use regular bus services.
"It's one of those areas where we've got to look at the most efficient way of using the money we've got.
"We'll be looking and working with the voluntary sector to see if we can provide a similar service."
Labour group leader Liz Brighouse questioned the numbers currently using Dial-a-Ride services.
"They appear to have been run down for some time and I believe there are many people out there who still can't access it," she said.
"I'm not convinced the volunteers will be there to step in across the whole county.
"With subsidies also being cut for a number of commercial routes, I'm sure there will be people facing the prospect of being cut off."
The county council's £6.3m supported transport savings would be phased in over three years until 2018.