Abbey Meadow Outdoor Pool petition handed to council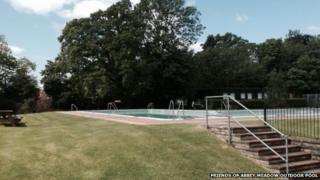 Campaigners of an outdoor swimming pool that is at risk of closure have handed a petition with more than 2,200 signatures to a council.
The Abbey Meadow Outdoor Pool in Abingdon was the subject of a Vale of White Horse District Council consultation which closed in April.
It proposes closing the outdoor pool, only open during the summer, under two out of three options.
Friends of Abbey Meadow Outdoor Pool are debating the petition at a meeting.
The pool is run by Better, which is part of leisure group GLL.
'Keep pool open'
The council is currently considering the public's responses to the consultation and a spokeswoman said a report would be presented to councillors in August.
According to the Friends of Abbey Meadow Outdoor Pool's website, there has been a bathing site on the banks of the River Thames since the 1880s.
The present pool was dug in the 1950s and was heated in the 1970s.
Peter Harbour, from the Friends of Abbey Meadow Outdoor Pool, said: "We believe enough people will wish to keep it there."
The pool is due to open for the summer on Monday.
Campaigners also fought to keep the pool open in 2005.
The council's website states: "When petitions containing more than 500 signatures are submitted, the petition organiser will be given five minutes to present the petition and the petition will then be discussed by councillors."