Oxford Water Eaton's park-and-ride users fall as revenue rises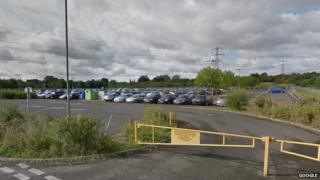 Use of a park-and-ride outside Oxford has dropped by more than a third since the introduction of short-stay charges.
A BBC Freedom of Information (FOI) request to Oxfordshire County Council revealed vehicles using Water Eaton reached 172,678 in 2013 but dropped to 106,516 in the last financial year.
During the same period revenue jumped from £98,608 to £174,055.
The council said a fall in the number of people parking at the site was expected.
Revenue has also increased at the council's other site at Thornhill - from £351,928 to £609,050 over the same period.
Due to building works, figures on its usage were not collected.
'Everyone's interest'
Users have paid £2 to park their cars for up to 11 hours since charges were introduced at both sites in 2013.
A council spokesman said: "It is very important to note that the peak period refers to a point when Oxford City Council had introduced charges in their park and ride sites while the county council sites remained free.
"We therefore saw a significant transfer of usage from Pear Tree (city council-run) to Water Eaton. Since the county council introduced charges at its sites... the distribution of parking has rebalanced.
"Much of the revenue received was used to offset operating costs... surplus funds are transferred to reserves and contribute to improvements to transport infrastructure.
"It's in everyone's interest to reduce the need to drive into the city centre and park-and-ride sites out of town offer a solution for people travelling to work, shoppers and visitors."
However, nearby residents have complained charges have led to commuters parking on residential roads.
Billy Burgess, 37, from Kidlington, said it was a "nightmare at rush hour".
He added: "Usually there are cars parked the whole length of the road. This causes gridlock. I've been stuck there with cars reversing the whole length of the road so others can pass."