Abbey Meadow Outdoor Pool saved from closure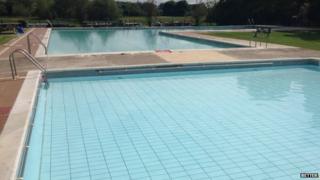 An outdoor swimming pool that was at risk of closure is to remain open, the council has announced.
The Abbey Meadow Outdoor Pool in Abingdon was the subject of a Vale of White Horse District Council consultation which closed in April.
Matthew Barber, leader of the council, said: "80% of people who responded said they wanted to keep the outdoor pool open."
The authority also said it will invest about £500,000 to improve the facility.
Mr Barber said: "Obviously we'll look at how we can spend that money to not only keep the facilities open, but improve the facilities."
A petition to keep the pool open received more than 2,500 signatures.
Naomi Richardson, who introduced it to the council, said on Facebook that the project still had some way to go.
She said the refurbishment must "fully meets the needs of Abingdon" and the "idea of ever again threatening to close the pool is inconceivable".
The pool is currently run by Better, which is part of leisure group GLL.
According to the Friends of Abbey Meadow Outdoor Pool's website, there has been a bathing site on the banks of the River Thames since the 1880s.
The present pool was dug in the 1950s and was heated in the 1970s.
Campaigners also fought to keep the pool open in 2005.