Men bailed following Oxford child sexual exploitation raids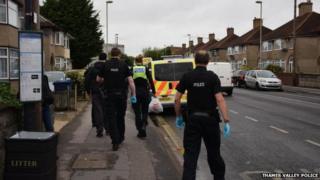 Three men have been released on bail after being arrested in dawn raids in Oxford related to child sexual exploitation.
More than 100 police officers from Thames Valley Police raided eight properties across the city on Tuesday.
Three men from Oxford, aged 34, 36 and 37, have been released until 8 July. Six others remain in custody.
Police said alleged offences included rape, sexual grooming and indecent assault on girls from 1999 to 2007.
About 60 incidents are being investigated in what police are calling Operation Sabaton. The alleged offences all involve female victims.
The men arrested are aged between 29 and 45.
Thames Valley Police said that the arrests were part of "a stand-alone separate investigation" from Operation Bullfinch, in which seven men were jailed in June 2013 for crimes including child rape and trafficking.