Calls for alternatives to Oxford flood relief channel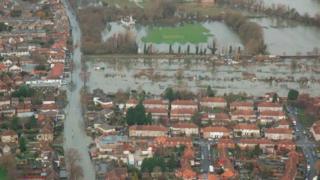 Flood plains upstream of Oxford should be restored instead of building an "intrusive" multimillion-pound relief channel, a professor has said.
It comes after plans for a £120m flood relief channel were announced.
Richard Harding, a professor from the Centre for Ecology and Hydrology said there were more cost effective options available.
He said the existing plan "would only protect the city and not the areas downstream".
The planned four-mile (6.5km) flood channel would flow through the city's western floodplain and divert excess water away from 1,200 homes.
"There is a considerable danger that the flooding will be made worse down through Abingdon, Wallingford and ultimately Reading and London. The flood channel will also cause disruption to the ecosystem and will be intrusive", Prof Harding added.
Graham Scholey from the Environment Agency said: "There's a lot of merit of looking at upstream land management but if we thought that addressing those upstream measures alone was a solution then that's what we'd be going for. On its own it won't provide the amount of flood risk reduction we need."
A six-week public consultation held by the Environment Agency and local councils has now closed.
Construction of the channel is expected to start in spring 2018.