Mirror and tissues 'caused bedroom fire' in Goring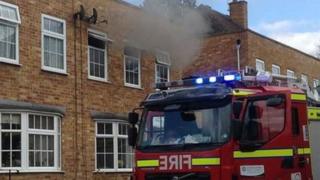 A mirror is thought to have been the cause of a fire that badly damaged a house in Oxfordshire.
The occupiers of the property in Goring-on-Thames raised the alarm on Thursday afternoon after returning to find smoke billowing from their home.
Crews used thermal imaging cameras to navigate through the smoke to the blaze in the front bedroom of the house in Miller Close.
The occupiers are being supported by the Red Cross Incident Response team.
Station manager Marcus Reay said: "The cause of the fire has been examined by our specialist fire investigators and it is believed to have started when sunlight reflected off a mirror located in the front bedroom, and focussed the rays onto a box of tissues on a wooden tray."