Oxford sex exploitation girl 'threatened with death'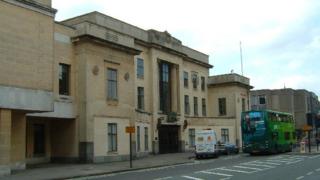 A girl who was sexually exploited over a 10-year period was threatened with death by some of her abusers, a court has been told.
Seven men deny sexually exploiting two girls in Oxford between 1999 and 2009.
They face 41 counts including rape, indecent assault, supplying Class A drugs and making threats to kill.
Both girls were aged between 13 and 15 at the time the alleged abuse started, and were in the care system, Oxford Crown Court heard.
Updates on this story and more from Oxfordshire
Prosecutors said the abuse took place at a B&B, wooded areas around Oxford and private addresses.
Prosecuting, Stuart Trimmer QC said one of the girls was told that if she reported anything to the police, she would be killed.
The trial, expected to last 10 weeks, continues.
The defendants and charges:
Naim Khan, 37 - two counts of indecent assault, two counts of supplying class A drugs, one count of rape, two counts of sexual activity with a child, and one count of causing or inciting a child to engage in sexual activity
Qasim Hussain, 30 - one count of rape and two counts of sexual activity with a child
Owais Khan, 32 - one count of indecent assault and five counts of rape
Alladitta Yousaf, 46 - four counts of indecent assault
Assad Hussain, 35 - six counts of indecent assault and six counts of rape
Anjum Dogar, 33 - two counts of indecent assault and two counts of rape
Akhtar Dogar, 35 - one count of indecent assault, two counts of rape, and one count of making a threat to kill