Attempted sex attack in Oxford's Headington Hill Park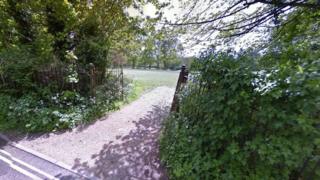 A woman was dragged into bushes in a park in Oxford by a man who then tried to grab her leggings.
Police said the attempted sexual assault happened early on Wednesday in Headington Hill Park.
The woman escaped unharmed when she screamed and her attacker fled in the direction of Cheney Lane.
The offence is being linked to two previous incidents in which a man exposed himself - in Old Road on 30 March and in Pullens lane on 7 April.
Thames Valley Police said officers would be carrying out extra patrols.
The attacker is described as being between 30 and 40 years old, about 6ft tall and wearing dark clothing.
Detectives are urging anyone who noticed anything unusual in the Headington Hill Park area between 05:00 and 06:00 BST to get in touch.