Ambulance misses response targets nine months in a row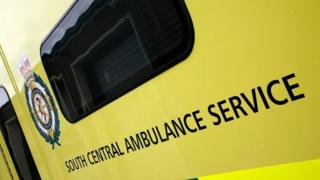 An ambulance service which serves most of the south of England has missed response targets for the most life-threatening calls nine months in a row.
South Central Ambulance Service (SCAS) said calls had been missed due to a "diminishing pot of paramedics".
SCAS recently came under scrutiny after claims the safety of 111 patients could be "compromised" because calls were not answered quickly enough.
The service has said a 16% increase in calls contributed to missing targets.
'Foreign paramedics'
All ambulances in the UK are supposed to respond to at least 75% of Red 1 calls - when someone becomes unresponsive and has a life-threatening condition like a cardiac arrest - within eight minutes.
The same target is set for Red 2 calls - when a person has a potentially life-threatening condition such as a stroke.
But SCAS, which serves Berkshire, Buckinghamshire, Hampshire and Oxfordshire, has consistently missed both targets for the last nine months.
The ambulance service says there has been a substantial increase in the number of calls received
In January, the service received 173,563 calls on its 999 and 111 phone lines.
SCAS has also been suffering from a slump in recruitment.
Director of operations Mark Ainsworth: "We have employed Polish and Australian paramedics for the UK.
"We are looking to expand that international recruitment as the pool of UK paramedics is diminishing."
In March the service was accused of potentially compromising the safety of patients who rang the 111 service, because calls were not answered quick enough.
At the time, a spokesperson said: "We are continuing to recruit staff to the NHS 111 service across our area."