Woodstock referendum turn-out 'disappointing'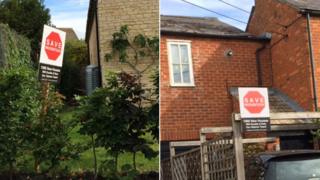 A referendum in an Oxfordshire town on whether to build houses on nearby green fields saw a 19% turn-out.
A total of 484 Woodstock residents took to the polls on Thursday, in what the town mayor called a "disappointing" response.
Elizabeth Poskitt said: "If you spend effort having a referendum and you don't know what the views are because only a few turn out, it's a problem."
An overwhelming 411 of voters said they wanted the area to be protected.
The remaining 73 said they did not.
Pye Homes wants to build homes on land in Woodstock owned by Blenheim Palace.
The developer says the town is in need of new housing, and has made a proposal of 1,200 homes on land north of the Bladon roundabout, as well as an alternative scaled back application of 280.
Both Cherwell District Council and West Oxfordshire District Council turned down previous proposals, but the developer could still appeal.
The poll was called by Woodstock Town Council following a meeting on 15 March.
The authority met the cost of carrying out the poll, estimated as between £600 and £1,000 by the district council.
It said costs were reduced by keeping the polling to a five-hour period, as well as not issuing polling cards or providing a postal vote.
Dr Poskitt said: "Only about 20% of the electorate came out, and they're clearly the ones that are against development.
"What the others think one doesn't know - they're probably a bit fed up of the matter.
"Most people were very much against the bigger development. With this, it's much more difficult to say what is good and what is bad."
The mayor added that while she had doubts that building on the green fields was a good idea, "one has to recognise in this day and age that we have to be realistic and it may not be possible not to".