Oxford A40 and A44 'bedlam' roadworks review under way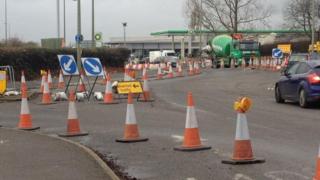 A review is taking place to speed up roadworks in Oxford which motorists have branded "utter bedlam".
A £10m scheme at Cutteslowe and Wolvercote roundabouts on the A40 began last summer.
A lane has now been closed for further works on the A44 between Wolvercote and Peartree roundabouts which is exacerbating the problems.
The county council said it was considering overnight working on the A44.
Updates on this story and more from Oxfordshire
'Pinch points'
Delays of up to 90 minutes have been reported since the A44 lane closure on Saturday.
It is expected to be lifted in mid-July, with work due to end in mid-October - six weeks earlier than planned, according to Oxfordshire highways councillor David Nimmo-Smith.
The A40 works are expected to end by the end of the year.
The pace of progress on the A40 has previously been branded "embarrassing".
Motorist Rebecca Coupland described the gridlock on Tuesday as "utter bedlam".
"I am going to lose my job at this rate. It's utterly awful," she said.
Taxi driver Colin Johnson said there were "too many roadworks going on at any one time".
Mr Nimmo-Smith blamed the volume of roadworks on government grants.
"To actually turn down the money because we can't deal with it, is not an option," he said.
The works will improve capacity "at a number of pinch points", he said.
He added the authority was trying to minimise disruption along the routes.
As well as overnight working, he said the council would look at other lane options for the A44.
---
Chris Brown, BBC Local Live
The roadworks at Wolvercote and Cutteslowe roundabouts that have driven motorists to distraction this week were announced as part of the Oxford and Oxfordshire 'City Deal' in January 2014.
City Deals were the coalition government's attempt to rebalance the British economy away from Westminster, devolving power and resources to cities and regions around the country.
But they came at a price...
Part of the criteria for winning the funds were the plans for the now notorious roundabout works - and a willingness for Oxford to "accept risk alongside reward".
Earlier today, David Nimmo-Smith, head of roads at Oxfordshire County Council, admitted: "To actually turn down the money because we can't deal with it, is not an option."
The fear for Oxfordshire's councillors is that if they crumble in the face of road rage now, the brakes will be put on any chance of securing more government cash and devolved powers.
---