Head of Oxfordshire academy 'wouldn't recommend' starting trust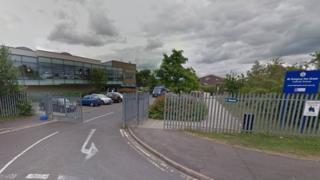 The head of an Oxfordshire academy trust put into financial special measures said she wouldn't recommend starting one to anyone.
The Dominic Barberi Multi Academy Company was issued a notice to improve after running up a deficit of £879,000.
It is based in Cowley in Oxford and was criticised for "weak financial management".
Principle director Marcella McCarthy said starting up such a trust was "a huge amount of extra work".
She said the company has now balanced its books but added: "It is very hard to run an academy trust, I wouldn't recommend it to anybody
"I wouldn't recommend starting it up because as I said it's a huge amount of extra work."
'Expenditure went unchecked'
Dr McCarthy added: "It makes enormously good sense for academy trusts that are trying to start up now to learn the lessons that have been learnt from situations like ours.
"To make sure that they do have financial expertise on the board, to make sure that they do have proper financial controls in place."
The government has said it will now monitor all the company's financial transactions until the notice is lifted.
It is based at St Gregory The Great Catholic School in Cowley, and also runs six other Oxfordshire schools.
Its annual report puts the deficit down to "high expenditure that went unchecked against a background of weak financial controls and lack of transparency around the company's finances".
Last month the government announced plans to force all schools in England to become academies.