Oxfordshire children's centres get six-month reprieve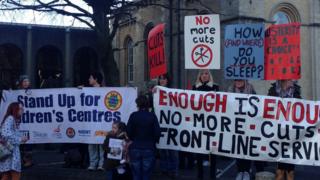 Under-threat children's centres in Oxfordshire have been given a six-month reprieve.
Oxfordshire County Council had said 44 children's centres would close in September 2016 in a bid to save £6m.
The services will now remain open until 31 March 2017 to give community groups more time to take over.
Seven "early intervention hubs", which provide extra support for children and families with complex needs, will also remain open.
A spokesman for the council said the delay would help it find time to explore longer-term solutions.
A protest opposing cuts to children's centres in Oxfordshire took place in November last year, and there were further demonstrations outside county hall during a budget meeting in February.
The council's cabinet will meet on 24 May to discuss the allocation of an additional £2m the council agreed not to cut from early intervention services in February.
The authority had said it needed to find £361m in savings between 2010 and 2020.