Oxfordshire bed blocking care home pilot misses target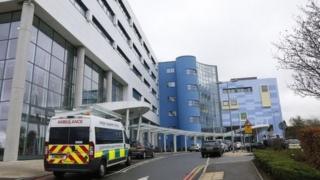 A scheme to cut bed blocking that saw 320 Oxfordshire hospital patients moved into care homes has missed its target.
Oxford University Hospitals NHS Foundation Trust hoped to reduce delayed transfers of care by 70%, but only achieved a 37% drop.
The pilot was to relieve pressure at the John Radcliffe and Banbury's Horton General during the winter.
However, trust chief executive Dr Bruno Holthof said more patients than predicted had been moved.
He added those people had "received assessment and care in a more appropriate environment than an acute or community hospital while their ongoing care plans are arranged".
'Serious care issues'
Of the 320 patients transferred, 104 have been discharged home, and 78 have moved to permanent placements in nursing or residential homes.
A trust spokeswoman said: "We recognise that we have not reduced the numbers of patients delayed in our hospitals by as much as we hoped."
She added that the number of patients delayed in beds has fluctuated during the winter, but started at 159 in December and now stands at 100.
The reasons for the delays range from waiting to move to community hospitals and care homes, waiting to go home with a care package, or waiting for an assessment.
The plan was formed by Oxford University Hospitals NHS Foundation Trust, Oxfordshire Clinical Commissioning Group (OCCG) and Oxford Health NHS Foundation Trust.