Oxford University Marginalia group uncovers student scribbles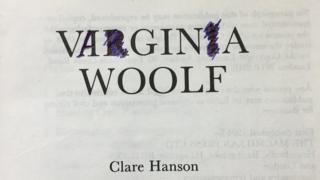 The founder of a Facebook group where university students post pictures of doodles found in library books does not "condone besmirching" the texts.
Oxford University Marginalia features examples of scribbled commentary by frustrated scholars.
Creator April Pierce said the group, which has 6,000 members, was for people "outraged and fascinated" by the notes.
Ms Pierce said: "It's probably not the most enlightened form of literature but it's entertaining and people enjoy it."
She said the collected examples of marginalia - a term used for comments made in the margins of books - were "guttural or visceral reactions to a reading experience".
Instances range from scholars scrawling song lyrics onto the pages, while others make crude jokes or describe certain passages or works as awful or tiresome.
One student simply writes: "I hate these clever Oxford people."
A spokesman for the Bodleian Libraries - the university's central libraries - said they "do not condone the defacing of library material".
He added: "All students of the University of Oxford who would like access to the Bodleian Libraries sign a declaration which is an agreement 'not to remove from the library, or to mark, deface, or injure in any way, any volume, document, or other object belonging to it'.
"They also 'promise to obey all rules of the library'."
Although "the majority" of readers are respectful of the rules, he said those who breach regulations "can have library access suspended".