Oxfordshire campaigners set up children's centre in council chamber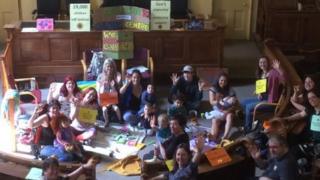 Parents have set up a pop-up children's centre in a council chamber in a protest over planned cuts.
Campaigners want Oxfordshire County Council to reconsider proposals to close most of its children's centres.
They said they wanted the local authority to "experience one first hand" at its offices in Oxford.
The council has said it wants to create a new service, incorporating children's centres, early intervention hubs and parts of children's social care.
It had proposed closing all 44 centres and replacing them with eight new facilities in a bid to save £8m.
Following a consultation, it said it will keep some "universal" services, fund childcare at 11 of the centres until 2017, and not make £2m of planned cuts.
In February it was reported David Cameron's mother Mary signed a petition against cuts to children's centres in her son's Oxfordshire constituency.
A decision about funding for the new service will be made by the council's cabinet on 24 May.