Ellis Downes inquest: Friends tried to save drowned boy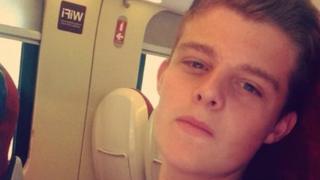 Two friends of a boy who drowned in Oxfordshire jumped into the Thames to try and save him, an inquest has heard.
Ellis Downes, 16, went missing after swimming near Donkey Bridge between Culham and Abingdon on 7 May.
An inquest, which began on Wednesday, confirmed the cause of death was drowning.
The police watchdog is investigating Thames Valley Police's handling of the case after Ellis's family said they were left without help.
Last week, the Downes family told the BBC they had to hire a boat and find private divers to locate his body when they were left without help. The force later apologised.
The inquest heard shortly after arriving at the river, the teenager stripped down to his boxer shorts and swam across to the other bank.
He got into difficulty as he swam back. Two of his friends jumped in to help him but he went under before they reached him.
His body was found two days later.
The inquest was adjourned until 2 August.