Flood alleviation project 'threatens' Weirs Orchard boat dwellers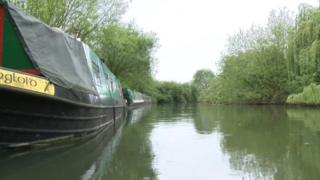 Members of a boating community in Oxford fear they could lose their homes if a proposed measure to reduce flooding goes ahead.
An option on the table for the £120m flood alleviation project includes widening the stream at Weirs Orchard to increase the water flow.
Resident Tim Wiseman said this would leave fewer spaces for moorings and threatened homes.
Oxfordshire County Council says any impact will be fully investigated.
The section near Donnington Bridge is one of seven examined in a recent consultation by local councils and the Environment Agency.
One option involves widening the side of the bank where 17 boats are currently moored, and straightening a bend in the steam, reducing the space there.
Almost 70% respondents opted for the alternative option of a channel across Iffley Meadows.
'Unique spot'
Mr Wiseman, speaking on behalf of the residents' association, said he was "entirely in support" of the main project.
However, he said if the option to widen the stream was chosen, not only would some residents lose their homes, they would first be rehomed for six months while works were carried out, incurring further costs to the scheme.
Oxford East MP Andrew Smith said he opposed an option that "would destroy this unique place and lead to at least some of the river residents being left homeless".
He said: "It puts a planning blight over them for years, and yet other options... would preserve this unique spot."
Simon Collins, from the Oxford Flood Alliance, described Weirs Orchard as the most controversial area in the scheme.
He said he shared the "ambition to see a solution that doesn't destroy what's a very vibrant little community".
The county council says the project is "designed to not impact on any residential properties or communities downstream".
A final decision is expected in June.