Court action over cut to Oxfordshire disabled man Luke Davey's care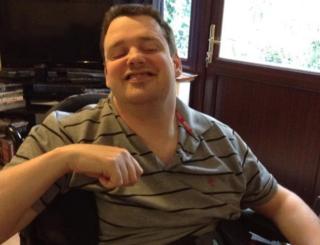 A severely disabled Oxfordshire man is taking a council to the High Court over plans to reduce his care.
Luke Davey, 39, from Burcot, is quadriplegic with cerebral palsy after contracting a virus as a child and needs 24-hour support.
He and his family are taking the action against Oxfordshire County Council after it took steps to reduce his care package to 17.5 hours a day.
The authority said it was continuing to work with the family.
The High Court has granted permission to bring a judicial review of the decision.
Mr Davey's mother, Jasmine, said: "I am 75 years old and have cancer. I cannot provide all the care that Luke needs.
"Luke is unable to make himself a drink or put himself to the toilet.
"The decision of the High Court came as a great relief to Luke and the family because it means Luke will be kept safe.
"It is just a shame that we had to take this matter to court and the council did not listen to our concerns and try to accommodate them."
'Intelligent but vulnerable'
Rebecca Chapman, a solicitor representing Mr Davey, said an independent report found that a reduced care plan would have a "detrimental impact on his wellbeing and independence".
She added they believed it constituted a breach of the Care Act 2014.
"Luke is an intelligent but vulnerable man who is dependent on a wheelchair, registered blind and relies on support from the council to fund carers so that he can live his life to his full potential," she said.
Oxfordshire County Council said: "It would be inappropriate to comment at this stage pending consideration of this case by the court.
"In the meantime we continue to work with Mr Davey and his family."
The hearing is expected to be heard later in the year.