Classic car used by Winston Churchill to be auctioned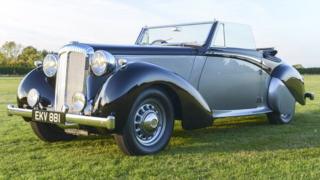 A one-of-a kind classic car used by Sir Winston Churchill for campaigning in the 1940s is to be auctioned.
The Daimler DB18 Drophead Coupe, built in 1939 and one of eight made, is the last of its kind left and has an estimated price tag of around £250,000.
It was loaned to the wartime prime minister in 1944 and 1949 for use during his political campaigns.
The auction will take place at his birthplace, Blenheim Palace, on Saturday.
Production of the DB18 model started in 1939, but was stopped as war broke out.
The factory in Coventry was demolished during the Blitz and only eight of the 23 planned cars were built. Five of the eight cars were destroyed during the attack.
The model going under the hammer, Chassis 49531, is one of the three remaining cars and the only surviving example.
Daimler used it over a 10-year period from 1940 to 1950 for special occasions and it was twice loaned to Churchill.
It was fitted with a loudspeaker system and Churchill would sit on the rear deck to address crowds as he was driven through various cities.
More than £100,000 has been spent on restoration by German firm Eberhard Thiesen.
"Let us not underestimate the importance of the car presented here," the COYS auction house said.
"This is the only surviving pre-war Daimler DB18 Drophead Coupe. This very car enjoyed a role in shaping modern Britain."