Gate climber impaled through buttocks in Oxford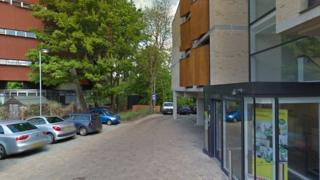 A man had an "extremely lucky" escape after impaling his buttocks on railings around a pub leading onto a meadow.
The injury occurred when the 41-year-old left the Angel and Greyhound Meadow by climbing over a park gate protected by the wrought-iron spiked railings.
The fire service said after "losing his footing" one of the spikes "penetrated him in the buttocks" on Monday evening.
Oxfordshire Fire and Rescue Service said the spike "missed all his major blood vessels and organs".
Firefighters used hydraulic equipment to cut the railings in St Clement's Street, Oxford, where he was treated by paramedics.
Station manager Brian Butler said emergency crews worked "fast and effectively to resolve what was a complex incident which avoided further trauma and injury to the gentleman involved".
"At the height of his climb the gentleman lost his footing and fell onto one of the spikes, one of which penetrated him in the buttocks," he said.
"On closer examination by the doctor and paramedics, it became clear that the gentleman had been extremely lucky as the spike had missed all major blood vessels and organs."
'Catastrophic haemorrhage'
Mark Begley, one of the paramedics at the scene, said the man had been "very lucky" and "stable throughout".
"It was an interesting case as you don't know the damage until you get the patient down," he said.
"We had everything in place for any potential catastrophic haemorrhage.
"We were blessed with an exceptional doctor on the scene who gave us brilliant guidance and the outcome was really good.
"If he had suffered really terrible injuries he would have been given the best possible chance."