Oxford tower block residents face £50k repair bill wait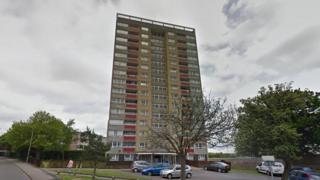 More than 50 Oxford tower block leaseholders face an anxious wait to see if they are liable for £50,000 renovation bills.
The residents have all been sent bills by Oxford City Council for planned refurbishment work to five buildings in Blackbird Leys, Cowley and Northway.
The local authority wants a tribunal to rule whether the fees are reasonable.
First instalments of up to £11,000 are due by 20 July, but the council said people do not have to pay immediately.
The council is applying to the Property Chamber of HM Courts & Tribunals Service for a ruling on whether or not the charges, which are part of a £20m revamp, are reasonable.
The work includes repairs to the communal structure of the tower blocks, over-cladding and new heating, electrical and fire safety systems.
'No enforcement action'
Labour cabinet member for housing, Mike Rowley, said letters demanding the first payment had only been sent out as a formality so an application to the tribunal could be made.
He said: "[It is] so that we can make the application to the tribunal as soon as that date has passed, to give leaseholders a degree of certainty about how much they will ultimately have to pay.
"We want to reassure leaseholders that we do not intend to take enforcement action in respect of any unpaid bills until the First Tier Tribunal has ruled on the matter."
But Darren Hazell, from the Oxford Towerblock Leaseholder Association, said he had been contacted by "vulnerable" people worried by the deadline.
He said: "The messages that have been sent are not clear.
"They have caused a lot of fear for people who have lived in their properties for a long, long time."
Mr Hazell added the leaseholders are unhappy at being asked to pay to "future proof" the tower blocks for the next 30 years.