Horton General Hospital bed reduction plan sparks anger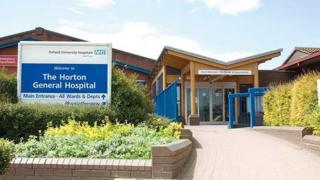 Proposals to reduce the number of beds at an Oxfordshire hospital have been described as "shocking" by campaigners.
Staff at the Horton General Hospital were told plans to "reconfigure" some wards were intended to provide more home-based care.
Oxford University Hospitals NHS Trust said 28 beds could be lost, but 10 "short stay" beds would be added elsewhere.
A trust spokeswoman said no jobs would be lost if the changes go ahead.
But the chairman of campaign group Keep the Horton General, Keith Strangwood, said the trust's plan for more people to be treated at home was untested.
'Same number of patients'
He said: "Before they do away with the medical beds they should do their experiments and make sure this is going to work.
"Because if it doesn't work, where are these people going to come back to in the hospital? There will be no beds for them if they get worse."
The 28 beds that could be lost will be on F Ward, which is for trauma and orthopaedics patients.
Director of Clinical Services Paul Brennan said the proposed changes were part of a "reconfiguration" to provide the same model of care at the Horton and Oxford's John Radcliffe Hospital.
He said: "There will be no changes to either the range or volume of services provided at the Horton and we will be providing care and treatment for the same number of patients."
The Horton had 248 inpatient beds during a 2014 inspection by the Care Quality Commission.