Abingdon council urged to fly rainbow Pride flag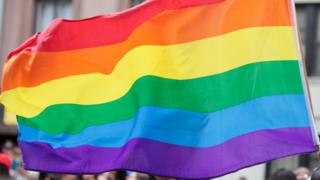 A council that refused to fly the rainbow flag for a Pride event has been urged to reverse its decision by an MP.
Campaigners were "shocked and appalled" after Abingdon-on-Thames Town Council voted against a motion to fly the flag next June in support of Oxford Pride.
The council said flying the rainbow flag would set a precedent for other flags to be flown in the town.
But Oxford West and Abingdon MP Nicola Blackwood has said it was "more important than ever" to show support.
She said: "The rainbow flag is flown by all sorts of groups and organisations, political and non-political alike, from Oxford colleges, to government buildings, the Bank of England and councils up and down the country.
"The flag is a symbol of pride in our diversity and, in light of recent events in Orlando, it is more important than ever that we openly demonstrate our support for the LGBTQ community here in Oxfordshire."
Oxford Pride chairman Robert Jordan accused the council of "backward" thinking and said it showed inequality.
A petition against the council's decision has been signed by more than 1,800 people.
Conservative council leader Mike Badcock said: "The council has a long-standing policy on which flags it flies from the county hall."
These include the union flag, flag of St George, the town flag, the Commonwealth and Armed Forces Day flags, as well as the "appropriate royal standard" during a royal visit, he said.
He added Oxford Pride was not an Abingdon event and, should there be an Abingdon Pride event the council would consider allowing a rainbow flag to be flown.