John Radcliffe Hospital delays passing on patient data 'harmful'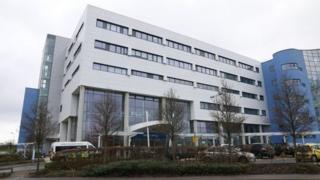 Long delays in transferring patient information from the John Radcliffe Hospital to GPs could affect their safety, an NHS body has warned.
Oxfordshire's Clinical Commissioning Group (CCG) has been monitoring the hospital's performance and said in 20% of cases it was taking too long.
CCG chair Joe McManners said patients could be harmed if it continued.
Oxford University Hospitals NHS Foundation Trust said it aimed to pass on the information as soon as possible.
GPs should have information about inpatients within 24 hours of discharge and for outpatients within 10 days of the appointment.
Dr Clare Dollery, deputy medical director at the trust, said: "We recognise that this is really important.
"We have been working hard with our clinicians and GPs to get this right and are pleased that we are meeting our targets 80% of the time.
'A big problem'
"Clearly we want to do better for our patients. We are currently looking at the quality of the data we are generating to ensure that it is accurate and using it to pinpoint areas for improvement."
Mr McManners said: "There needs to be a really quick, safe transfer of information so that the people in the hospital are telling the people in the community what's happened.
"That way the patient has a nice smooth transition home [otherwise] there are a lot of consequences. One of them is often a readmission to hospital."
Abingdon GP Prit Buttar called it a "big problem".
He said: "In fairness, these are signs of an entire system under strain.
"If hospitals weren't overwhelmed with work, they would get letters out on time.
"If GPs weren't overwhelmed, they would be able to cope better with the occasions when letters arrive late.
"I fear that we are going to see more and more of these signs in coming months."