Ellis Downes' death in Culham river accidental, coroner says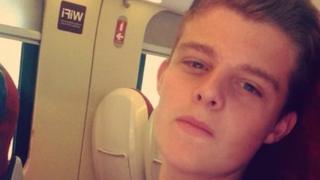 The death of a teenage boy who drowned in a river while swimming with friends was accidental, an inquest has found.
Ellis Downes, 16, went missing after swimming near Donkey Bridge between Culham and Abingdon, on 7 May.
His body was found two days later. The cause of death was drowning, Oxford coroner Jeremy Chipperfield recorded.
The police handling of the case is being investigated after Ellis's family said they had to hire a boat and private divers to find his body.
The Thames Valley force later apologised, although the criticisms were not addressed at the inquest.
The coroner said there was no evidence Ellis was drunk or had taken any drugs.
'Cold, dirty water'
Mr Chipperfield read statements from his friends, who said Ellis was laughing and joking as they reached the river, before he quickly decided to strip to his boxer shorts in order to swim to the other side.
Ellis had managed the swim but "struggled to pull himself on the other bank", his friend Dean Gunning said in a statement that was read out at the hearing.
Ellis's friends the offered to drive round and pick him up but he decided to swim back.
After getting back in the water, Mr Gunning said he spotted Ellis "was drifting to the right", adding he thought he was "messing around to start with".
However, when it was clear the teenager was struggling, Dean and his brother Jack got into the water to try and save him.
But, the hearing was told the water was cold and dirty and they were unable save their friend.