Oxford Pride organiser 'apprehensive' over flag review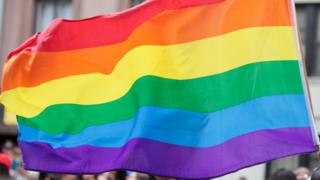 The chair of an annual Pride event has said he is "apprehensive" after a council which refused to fly the rainbow flag in support of the event said it would look again at its policy.
Abingdon-on-Thames Town Council agreed to set up a working group to review the "raising of flags and banners".
The council leader denied the move came after pressure from the local MP.
Rob Jordan from Oxford Pride said it was "good to know the council had at least identified failings".
'Shocked and appalled'
Campaigners were "shocked and appalled" after Abingdon council voted against a motion to fly the flag next June in support of Oxford Pride.
Oxford West and Abingdon MP Nicola Blackwood wrote to the leader of the council saying it was "more important than ever that we openly demonstrate our support for the LGBTQ community".
At a meeting of the council, a five-strong working group was set up to look at how the town's market square is managed in general, including what flags are flown.
Council leader Mike Badcock said it was not being set up just to review the rainbow flag decision.
He previously said he was concerned the council would come under pressure for other flags to be flown.
'Only a start'
Mr Jordan, who said last month he felt "not particularly wanted or loved in the town in which I live", said it was "only a start".
"I am positive but apprehensive. The decision has not been overturned and the councillor setting it up was one of those who voted against the motion in the first place," he said.
A group of young people from Abingdon meanwhile has organised an event in support of Oxford Pride in the town centre next week.
The group said the decision not to fly the flag was "fundamentally wrong" and wanted to show Abingdon was a town "proud to embrace and accept diversity".