Oxford Playhouse refurbishments completed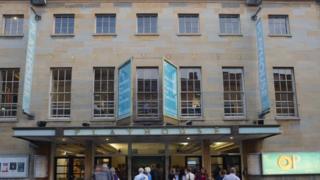 A three-year project to upgrade Oxford Playhouse has been completed.
The £800,000 scheme involved modernising the foyer, bars, air conditioning, sound and lighting, and replacing worn auditorium fittings.
A spokesman said they had "all been given some much needed love" and the theatre had been brought "into the 21st century".
The Beaumont Street venue was awarded £486,300 from the Arts Council's Small Capital Fund towards the refurbishment.
The first production in the renovated theatre is Peter Pan in Scarlet by Geraldine McCaughrean, an official sequel to the JM Barrie tale.
A gala performance on 1 September will be attended by theatre patron Sinead Cusack and her husband Jeremy Irons.
The Grade II* building, built in 1938, was last refurbished in 1997.