Oxford council leader Bob Price to step down next year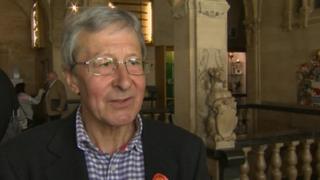 The leader of Oxford City Council has announced he will stand down in May next year.
Bob Price is the city's longest serving councillor and has led Oxford City Council from 2008.
He said he was turning 70 years old next May and it was "a good age to retire".
Interim chief executive Gordon Mitchell said Mr Price was owed a "debt of gratitude for the leadership he has provided".
He added the council leader had made it "very clear" he intended to remain focused right up to his departure.
Mr Price has been a city councillor in Oxford since 1983 but will not be seeking re-election.
He said: "After 35 years representing my local community in Grandpont, New Hinksey and St Ebbes, and 12 years as the leader of the Labour group, it feels like a good moment for a change of pace.
"If I am averagely lucky, I hope to be able to find more time over the next decade doing more of the many things that I enjoy, but which have had to be squeezed in between city council commitments in recent years."