Ibrahim Keivo 'grateful' to supporters after visa refusal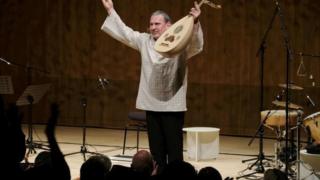 A renowned Syrian folk musician refused a five-day visa to play in the UK has expressed thanks to his supporters.
Ibrahim Keivo was due to play at the Oxford Chamber Music Festival in October, but the Home Office declined his application.
Writer Philip Pullman and Queen guitarist Brian May are among 43,000 people who have signed a petition calling on officials to let him play.
Mr Keivo said he was "so grateful for all the warm support".
The musician has a repertoire of ancient Syrian folklore and Bedouin music which he plays on a stringed instrument called an oud.
A refugee who was granted asylum in Germany, Ibrahim Keivo was also due to participate in an educational programme for young people.
'Irreplaceable'
The Home Office said applicant's sponsors "must demonstrate that the role could not have been filled by someone already resident in the UK".
"Where no evidence is provided - such as written support from an appropriate industry body - the application will be refused."
Its stance prompted Oxford East MP Anneliese Dodds to tweet: "Surprising to hear Home Office has argued a famous oud player lacks skills."
Festival artistic director Priya Mitchell described his abilities as "unique" and "very specialised".
"We could not find somebody with these myriad talents and of his calibre in the UK," she added.
"If he can't play and come to Oxford Chamber Music Festival where he was supposed to play in three concerts, then we will have to replace him with a different type of music and programme, because he is irreplaceable."
Mr Keivo said: "It would have been an honour for me to perform some of the oldest songs of Syrian folklore for the audience in the UK.
"I am really heavy-hearted that I wasn't granted a five-day visa.
"I fulfilled all the necessary actions and provided all the paperwork that the British Consulate in Düsseldorf asked me to.
"It is the first time that this happened and I had been touring throughout Europe since 2002 and invited to countless concerts and festivals.
"I've been living with my family [in Germany] for almost three years now and have absolutely no intention to stay in Britain.
"All I want is to present my music in this beautiful country."