A34 safety review: Highways England proposes improvements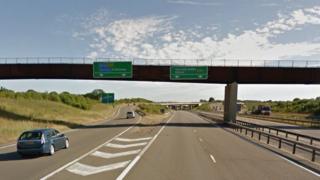 A series of measures to improve safety on a road where several high-profile crashes have taken place have been proposed.
The government ordered the review of the A34 after concerns were raised about its safety.
A Highways England review lists 16 potential improvements, including enhanced road markings.
But it also suggests driver behaviour was a "significant contributing factor" in the majority of collisions.
The 62-mile route between Hampshire and Oxfordshire has come under increasing scrutiny, particularly along the stretch between the M4 and M40.
Lewis Stratford was jailed for causing a head-on crash which killed 28-year-old Australian Gavin Roberts in June 2016.
Stratford crashed through the central reservation at Compton while arguing with his girlfriend on the phone.
Two months later HGV driver Tomasz Kroker ploughed into several cars, killing Tracy Houghton, 45, her sons Ethan, 13, and Joshua, 11, and her partner's daughter Aimee Goldsmith, also 11.
Kroker was scrolling through music selections when he crashed, between Chieveley and East Ilsley in Berkshire.
The Highways England report said collision analysis found driver behaviour had contributed to the majority of crashes.
But it recognised that the route required "some improvement work to help tackle congestion", that a "larger investment" in the road would be needed, and said it was recommending several schemes to improve safety.
They include reviewing the HGV parking facilities, improving signage, extending some lay-bys and closing others, and carrying out educational campaigns.
It highlighted the East Ilsley to Bury Lane Junction, the Chilton to Milton Junction, and the Hinksey Hill to Botley Junction, as locations suitable for installing in-road lighting systems.
Highways England is now seeking feedback on the proposed measures before proceeding further.
It aims to issue a full review to the Department for Transport.