Oxford housing co-op 'facing bankruptcy' over £50k tax bill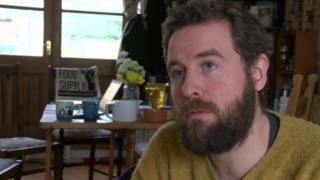 Tenants who formed a housing co-operative to buy a home in Oxford say it is facing bankruptcy because of a £48,500 stamp duty bill.
The Kindling Housing Cooperative raised £550,000 from investors and an online crowdfunding campaign started in 2016.
Members said they initially paid £34,000 in stamp duty after calling HMRC and using its online calculator.
But now they must find the additional £48,500 because the government classed it as a "collective investment scheme".
The group bought the semi-detached house in Church Hill Road, Rose Hill, because its six members were "fed up" with rising rents and unaffordable housing..
Tenant and member Alex Towler said the bill was "massively over what would be normal" because HMRC had misunderstood their business model.
He said: "If this was a for-profit rental or we were property developers we would not be paying this bill, and would be charged as an exempt company.
"What it's missed is that the majority of investors are social investors, who we needed because we couldn't get on the housing ladder."
He added that most of the lenders do not stand to make a profit and the co-operative plans to repay all their donations.
Figures from 2015 showed house prices in Oxford were about 16 times the average earnings of people living in the city.
The co-operative was formed in an attempt to create a secure and affordable housing model, which could lead to a network of co-ops in the city.
Mr Towler said: "We have a business model, very finely worked out. This will bankrupt the cooperative and this will leave people homeless."
HMRC said it does not comment on individual cases but that it has "an excellent record in supporting those in genuine difficulty, including offering more time to pay if appropriate".