Five things in Oxfordshire this year
Here are five stories from Oxfordshire which people have been clicking on in 2017.
1) Oxfordshire field message sparks hunt for 'Sue'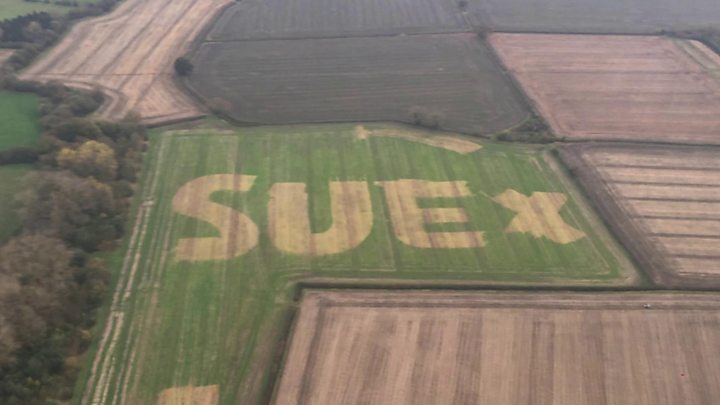 One of the year's quirkiest Oxfordshire stories arrived in November when the word "Sue" was discovered etched into a field.
The puzzling message was spotted by the National Police Air Service just south of Tetsworth, near Thame, and the big question that began trending on Twitter was #WhoIsSue?
It posted the picture on Twitter and added: "Let's see if we can use the power of social media to #FindSue!"
So could Sue be found? And just why was her name on an Oxfordshire field? Luckily the BBC soon found the answer...
2) Banbury mother dies after raising thousands for sons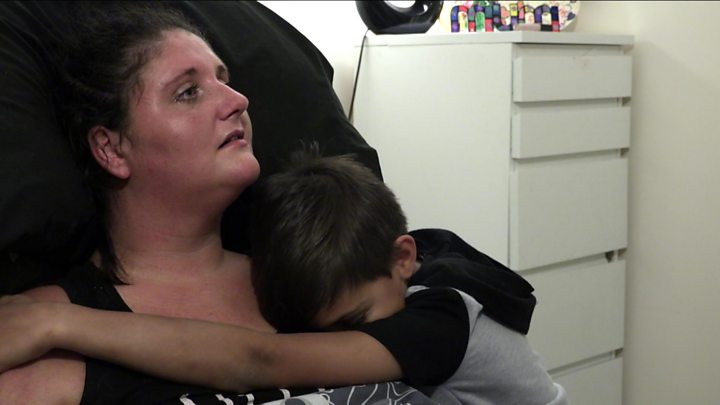 The plight of a woman with motor neurone disease inspired hundreds to donate money to ensure her sons could live with her sister in Australia after she died.
Sam Kyme, 34, from Banbury, could no longer talk when she launched the plea for help using a crowdfunding website.
She died in December having raised more £40,000.
The money will be used to fund the funeral, plane tickets, and legal and school fees.
3) Henley's wallabies: Where do they come from?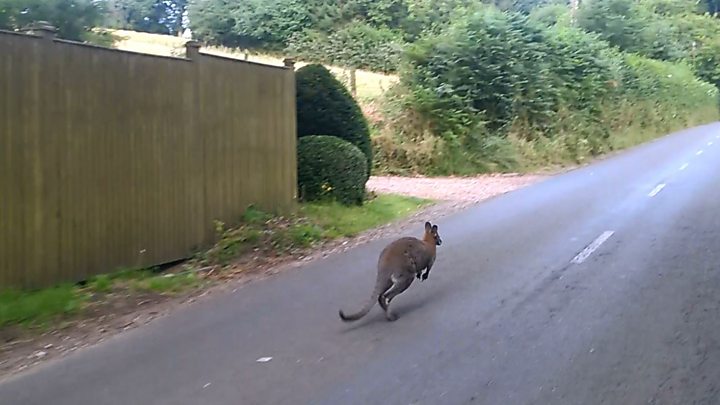 We were hunting for wallabies in Henley in August after one made headlines when it was photographed by a stunned binman.
But it some become apparent from readers' responses that for those living near Henley-on-Thames the sight of the marsupials hopping over fences and across roads has become almost mundane.
But how they got there and how many there are still remains a mystery. Will 2018 yield the answer?
4) Farewell to Colin Dexter
Oxford said goodbye to the creator of the Inspector Morse novels in March when the author Colin Dexter died at the age of 86.
His series of 13 Morse novels, written between 1975 and 1999 were set in Oxford and adapted for the long-running ITV series, that starred John Thaw.
After Mr Dexter's death, the leader of the city's council, Bob Price, said Oxford would always feel the impact of his work, and plans to mark his contribution with a statue have since been revealed.
5) The Oxford University college fighting elitism
Oxbridge is often criticised for accepting too many students from privileged backgrounds, but one Oxford college, Mansfield, stands apart from the rest.
Since 2001 the percentage of state school students admitted to Mansfield has risen from 67.1% to regularly in excess of 80%, hitting a high of 91.4% for its most recent intake.
Staff put its success down to an access and outreach programme that involves about a third of its students.